HOME > Pope Francis > Biography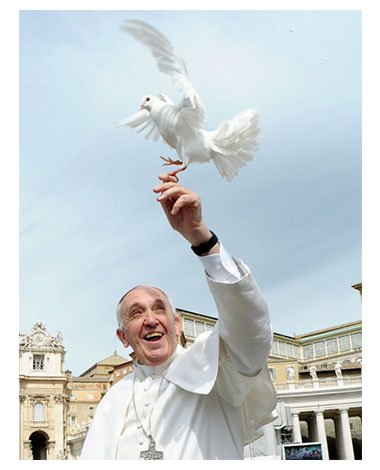 Cardinal Jorge Mario Bergoglio(Jesuits)
Cardinal Jorge Mario Bergoglio(Jesuits) was born in Buenos Aires of Argentina on 17 December 1936, Archbishop of Buenos Aires and Primate of Argentina and Ordinary for Eastern-rite faithful in Argentina.
He graduated as a chemical technician and then chose the path of a priesthood, entering the Diocesan Seminary of Villa Devoto. On 11 March 1958 he entered the novitiate of the Society of Jesus. He completed his studies of the humanities in Chile and returned to Argentina in 1963 to graduate with a degree in philosophy from the Colegio de San José in San Miguel. From 1964 to 1965 he taught literature and psychology at Immaculate Conception College in Santa Fé and in 1966 taught the same subject at the Colegio del Salvatore in Buenos Aires. From 1967 to 1970 he studied theology and obtained a degree from the Colegio de San José in San Miguel.
On 13 December 1969 he was ordained as a priest by Archbishop Ramón José Castellano. He continued his training between 1970 and 1971 at the University of Alcalá de Henares, Spain, and on 22 April 1973 made his final profession with the Jesuits. Back in Argentina, he was novice master at Villa Barilari, San Miguel; professor at the Faculty of Theology of San Miguel; consultor to the Province of the Society of Jesus and also Rector of the Colegio Máximo of the Faculty of Philosophy and Theology.
On 31 July 1973 he was appointed Provincial of the Jesuits in Argentina, an office he held for six years. He then resumed his work in the university sector and from 1980 to 1986 served once again as Rector of the Colegio de San José, as well as parish priest, again in San Miguel. In March 1986 he went to Germany to finish his doctoral thesis. His superiors then sent him to the Colegio del Salvador in Buenos Aires and next to the Jesuit Church in the city of Córdoba as spiritual director and confessor.
On 20 May 1992 Pope John Paul II appointed him titular Bishop of Auca and Auxiliary of Buenos Aires. On May 27 he received episcopal consecration in the Cathedral of Buenos Aires from Cardinal Antonio Quarracino, Apostolic Nuncio Ubaldo Calabresi, and Bishop Emilio Ognenovich of Mercedes-Lujan on 27 June of that year.
On 3 June 1997 he was raised to the dignity of Coadjutor Archbishop of Buenos Aires and then became Archbishop of Buenos Aires, succeeding Antonio Quarracino on 28 February 1998. He was appointed to General Relator to the 10th Ordinary General Assembly of the Synod of Bishops on the Episcopal Ministry in October 2001. At the Consistory of 21 February 2001, John Paul II created him Cardinal, assigning him the title of San Roberto Bellarmino. In 2005 he served as President of the Bishops' Conference of Argentina, serving in that position until 2011. He was a member of the Congregation for Divine Worship and the Discipline of the Sacraments, the Congregation for the Clergy, the Congregation for Institutes of Consecrated Life and Societies of Apostolic Life, the Pontifical Council for the Family and the Pontifical Commission for Latin America.
On 13 March 2013 he was elected as 266th pope of the Roman Catholic Church.
From Vatican Information Service, March 13, 2013