HOME > Pilgrimage > Places will be visited by the Holy Father > Haemi Martyrium

Haemi Martyrium
Address: 13 Seongji 1-ro, Haemi-yeon, Seosan-si, Chungcheongnam-do
Tel: 041-688-3183
Website:
http://www.haemi.or.kr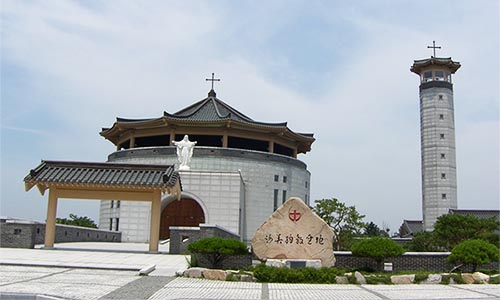 The Land of Unknown Martyrs
Haemi Martyrdom Shrine is where unknown martyrs were killed. The number of martyrs recorded is as many as 132, but most of them remain anonymous. Many Catholics were arrested from Naepo region and executed for adhering to their faith, but their identities were not determined. Some of the devotees were even buried alive during the Mujin Persecution in 1868.
Naval Base Haemi
One of the reasons why Catholics were executed in Haemi was because it was home to the Haemi Fortress and the navy. Since executions were left to be handled by soldiers, devotees arrested in Naepo region were sent to Hongju, Gongju, and Haemi. The martyrs chose to give up their lives even though they could have avoided death by denouncing their faith.
Haemi Fortress and Martyrium
A fortress and government office built in the Joseon Dynasty remains well-preserved in Haemi. There is evidence of how the devotees were tortured and imprisoned. The prison and pagoda tree used for hanging have been restored. The execution took place outside the West gate, which leads right up to the Martyrium. Pilgrims can trace the lives of martyrs at the historic holy site of Haemi.