HOME > Pilgrimage > Places will be visited by the Holy Father > Solmoe Shrine

Solmoe Shrine

Address: 132 Solmoe-ro, Wugang-myeong, Dangjin-si, Chungcheongnam-do
Tel: 041) 362-5021
Website:
http://www.solmoe.or.kr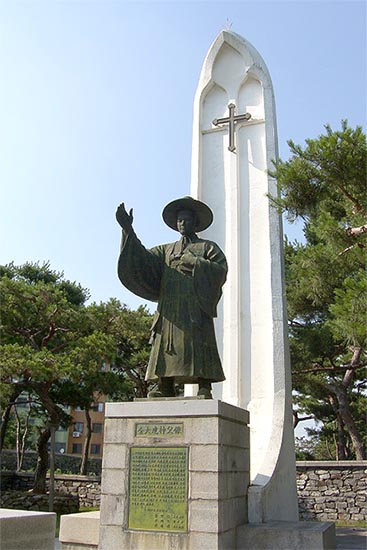 The Birthplace of Father Kim Daegeon
Solmoe Shrine is the birthplace of Father Andrew Kim Daegeon, the first ordain priest of Korea. Born in Solmoe on August 21, 1821, Father Kim was known by the name Jaebok during his childhood. He joined the priesthood at the age of 24 in 1845 after studying in Macau. This was a turning point for the Catholic Church in Korea, which was celebrating its 61st anniversary. Father Kim's birthplace has been restored in Solmoe, and his statue erected in the middle of a pine forest.
Four Generations of Martyrs
The faith of Father Kim was handed down by his ancestors. His great grandfather Pius Kim Jin-hu was converted at the age of 50 and martyred in Haemi in 1814, his father's uncle Andrew Kim Jong-han in Daegu in 1816, his father Ignatius Kim Je-jun in Seosomun in 1839, and himself in Saenamteo in 1846. Today, many pilgrims visit Solmoe because of the numerous martyrs who lived in the area.
An Icon of Solmoe
Solmoe, an old name that appeared in the 1836 letter of recommendation for Father Kim, means a thick mountain of pine trees. One of the eight sights of Dangjin, the pine trees represent the strong faith of the devotees. The boat-shaped church at the heart of Solmoe symbolizes the Raphael, a small boat that Father Kim arrived in. The arena and statues of the 12 disciples were built to commemorate the exemplary life of Father Kim, who was martyred in Saenamteo. The Asian Youth Day was held at Solmoe in August 2014, graced by the presence of Pope Francis.